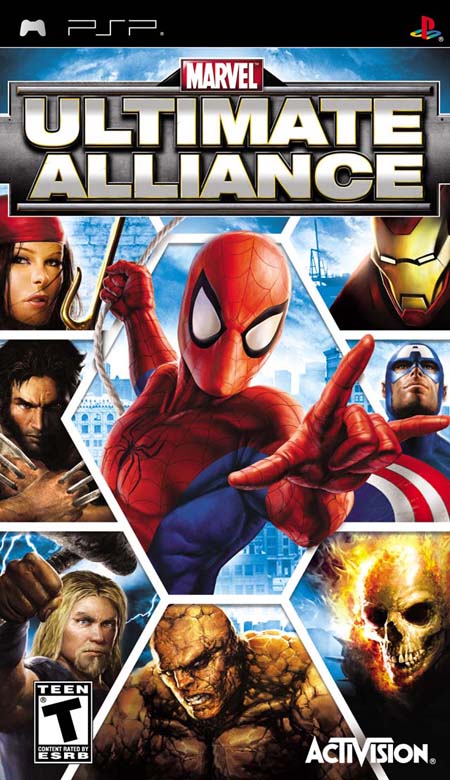 Marvel Ultimate Alliance (2006/PSP)
Language: ENG | PSP | Developer: Vicarious Visions Raven Software | Publisher: Activision | 1,45 Gb
Genre: Action RPG
In this superhero-filled action-RPG, players assume the roles of more
than 20 Marvel Super Heroes including Spider-Man, Wolverine, Blade and
Captain America, and through their actions determine the fate of both
planet Earth and the Marvel universe. The game features total team
customization, where players create their own team name, icon and
vehicle, as well as establish their team reputation as they play
throughout the story.Battle the world's most notorious Marvel Super
Villains in the air, underwater, and on the ground, using grappling,
blocking and dodging moves, and even environmental objects as one and
two-handed weapons. The storyline is designed open, and the missions
that you choose to accept affect the outcome of the Marvel Universe.
Also featured are competitive and co-operative multiplayer modes.
Download from Fileserve.com:
fileserve.com ukFSTwf/Marvel
Ultimate Alliance.part1.rar
fileserve.com SJTSUhf/Marvel
Ultimate Alliance.part2.rar
fileserve.com HEYrGae/Marvel
Ultimate Alliance.part3.rar
fileserve.com w8F7d5C/Marvel
Ultimate Alliance.part4.rar
fileserve.com N8ZfXwZ/Marvel
Ultimate Alliance.part5.rar
fileserve.com NMTBjGn/Marvel
Ultimate Alliance.part6.rar
From Hotfile.com:
hotfile.com Marvel2520Ultimate2520Alliance.part1.rar.html
hotfile.com Marvel2520Ultimate2520Alliance.part2.rar.html
hotfile.com Marvel2520Ultimate2520Alliance.part3.rar.html
hotfile.com Marvel2520Ultimate2520Alliance.part4.rar.html
hotfile.com Marvel2520Ultimate2520Alliance.part5.rar.html
hotfile.com Marvel2520Ultimate2520Alliance.part6.rar.html