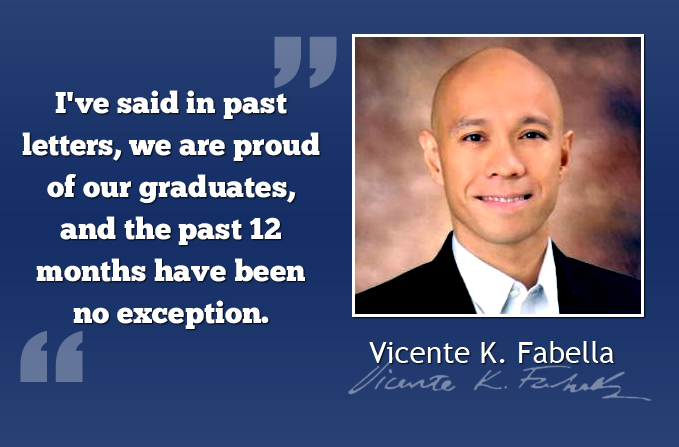 The Students of JRU: A Source of Pride
I've said in past letters, we are proud of our graduates, and the past 12 months have been no exception. Our PRC performances in education, nursing and law have continued to outperform the national average, and are at their all-time highest levels. In a similar manner, we are pleased that we continue to see a 90+% employability rating for our non-PRC graduates. This means that over 90% of these graduates get jobs within six months of graduation. I want to highlight our BS IT graduates, who have posted a 95% employment rating, the highest among all the programs!
Student achievements aren't limited to our graduates. Our HRM students continue to do well in national competitions: Ana Katrina Bano, Xue "Snow" Zhang, Rodrigo Bajaro, Zhang Xue, Roy Jabines, Nicole Galang, YuesAlcaran and Sheryl Coros are recent medalists. BA and Economics students (Miriam Joy Tumamak, and Gabriela Ida Rancio and Joan Borras respectively) are officers in their respective national associations.
Our elementary and high school students also excel. Several, such as Isabela M. Salamanca, Chelsea Anne L. Sison, Ann Dominique C. Tobias, Arianne G. Diculen, Faith Ann D. Dela Guerra, Pauline Pearl Francia, Rean Christine A. Maniago and Michaela S.J. Siapno are among those who won throughout the year in everything from city-wide quiz bees to English essay compositions to regional computer competitions to digital design to city-wide dance competitions. The wide range of competitions shows you that JRU continues to be committed to every student's complete development.
The Philippine Center for Gifted Education, in cooperation with the National Historical Commission of the Philippines, the National Commission for Culture and the Arts, the Cultural Center of the Philippines and Tanghalang Pilipino, awarded the 35 Filipino children and youth who have committed their lives to the ideals of Dr. José Rizal. Our very own Justine Daniel Junio, a grade 4 pupil, was chosen as one of its awardees, great honor.
Finally, Roger Tapia, a BCS Management athlete, brought home gold and silver medals from the recently-concluded 6th Asean Paragames Athletics Championship in Indonesia. Mr. Tapia will be representing the Philippines in the 2012 London Para-Olympics in three events.
A Quality System to Rely On
Student achievements notwithstanding, these results cannot be achieved without a well-functioning system. PACUCOA and the FAAP, the independent national accreditation authorities that assess our quality, gave JRU its highest rating for four programs: Level IV for Business Administration, Elementary Education, Secondary Education and Liberal Arts. As a result, it awarded JRU as the university with the most number of Level IV programs in the Philippines, during its annual ceremony in December!
Other accreditation accolades for the university include Level III ratings for its graduate programs (the highest in the country), and Level II ratings for the elementary and high schools (the highest in the country for PACUCOA). If anything, these ratings continue to remind us of our responsibility to provide the best education possible to students.
Quality is important, and we shall continue to invest in it. The University is currently preparing for ISO, while it continues its accreditation, quality circles and other quality initiatives.
Technology
Our near-term plans -- aside from faculty development -- continue to focus on technology, facility improvements and industry linkages. To that we have added environmental initiatives.
The University takes seriously its technology. This is a reason why we have -- as many of you have noticed -- increased "on-the-spot" surveys, to have a better understanding of student needs. As a result of the responses, we are finishing up our new bandwidth calculations, and expect to have a faster internet service in by end-February. These surveys tell us what you need, and we take them seriously: I encourage you to actively answer these surveys when you see them.
Many of you are enjoying the netbooks available in the Main Library, the usage of which has been growing tremendously. We also will continue with the installation of multimedia equipment in the classrooms, and the continued expansion of online learning.
But the main area of investment in technology is how it aids learning, and this is the area we have been diligently working hard on. Online learning (as a partner with classroom learning) over the past two years has increased exponentially in the college, and classroom based computer-aided learning in the elementary and high schools. Learning management systems, increased access to online journals, and a major course redesign program are among the investments the University is making, to make learning more effective and tailored for each student.
These are technological commitments few Philippine universities are willing to make, but ones in which we believe the future of education lies. As Rizalians, we want you to be the first to benefit.
Places of Learning
I'm sure you have not missed this one: we began with the main library re-opening in June and are ending with the new quadrangle to be completed by the first week of March. The quadrangle in particular, with its student park, will be a work-in-progress, as we study how you will use it.
We are continuing to improve our classrooms and labs, by expanding upon the classrooms we started last year. We hope to begin the construction of the new Elementary School, which will be located at the Building K annex. This means that the main quadrangle will become fully a college quadrangle, and the high school and elementary schools will have their own dedicated spaces.
Industry Linkages
For the college, we continue to pursue our industry linkages and boost our EdGE (Education towards Guaranteed Employment) program through our almost 100 industry partners which include some of the leading companies in their industries, such as 2GO, Accenture, IBM, Ventus, Stream and Source Asia Business/UPL. These are tailored partnerships toward employment in the country's "growth sectors". If you have not looked into the EdGE program, we encourage you to do so. Talk to your dean about it.
Outreach and the Environment
The social experience in JRU also cultivates outreach programs such as the tree planting of the University, wherein our students (from Grades 5 to Graduate School) take part. We actually have planted more than 14,000 trees since school year 2006. To put this in perspective, as part of our environmental initiative, we will annually attempt to reduce our carbon footprint, a key indicator for universities concerned about the environment. Tree planting is a major contributor to reduced net carbon emissions.
Looking Forward to 2012
Every new year is a good challenge, to do better. We have many projects and initiatives planned over the following months, and are excited about how they can make things better for you. Increased online access, better learning spaces (classrooms and outside classrooms) and better labs are some of these. Of course, none of these is however worthwhile without keeping good faculty. That is, at the core of JRU, what we improve yearly.
My door is always open, if you wish to drop by and chat. I never tire talking about JRU. Together, we hope we can all fulfill the mission of the university, to have graduates that make a difference in their communities and their country.
Happy New Year!