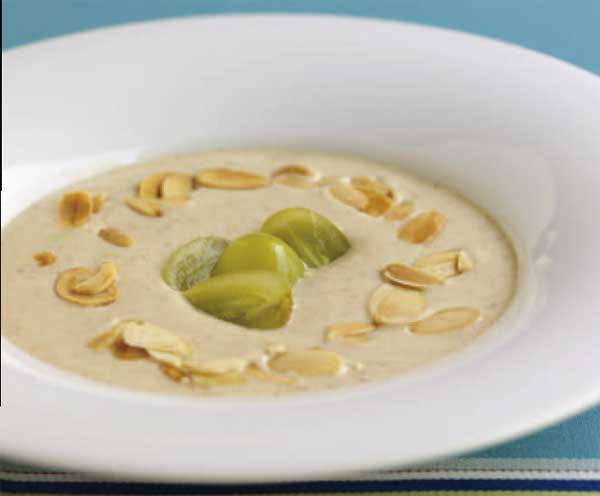 Ingredients:
8 oz crusty white bread, without crust

water to soak the bread

3 7⁄8 oz raw, peeled almonds

2 cloves of garlic

23 ½ fl oz cold

8 ½ fl oz olive oil

vinegar (red wine or sherry)

salt

1 blender

1 spoon
Procedures:
Step 1:
Soak the bread
Place the bread in a bowl of water and soak thoroughly.
Step 2:
Ground the almonds
In a blender, purée the almonds, salt and garlic. Lightly squeeze the soaked bread and add to the blender. Blend until it forms a white paste.
Step 3:
Add the oil and vinegar
Slowly add the oil then a dash of vinegar.
Step 4:
Add the water
Gradually add the water to create a smooth, thick soup. If you add the water too fast the mixture will curdle.
Step 5:
Taste and add salt
Adjust the seasoning if needed after tasting.
Step 6:
Garnish and serve
Pour the soup into the serving bowls and garnish. In Andalusia the traditional garnish for this soup is peeled and seeded grapes but you could also use slices of apple or melon.
Serve Hot with Bread

By:
Fritz